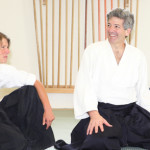 New date
November 12, 2011
demonstration, pot luck brunch and bowling !
Schedule:
9:00am – 11:00am Adult and Teen class
11:00am – 12:15pm Embukai (open house demonstration)
12:15pm – 2:15 pm Pot Luck Brunch
2:30pm- 5:00 Bowling party
Open House- demonstrations -brunch and bowling!
Demonstrations from our: Aiki Play Group , Aiki Kids , Aikido Children, Youth & Teens, senshin, and adults.
We will all present some of what we have been working on to our family friends and guests. This will be followed by Brunch at the dojo and Bowling at Bayside Bowl.
Please join us if you can!
If you would like to Bowl please register so we can have a head count for our reserved lanes.
Register here
You don't need to Bowl to come to the bowling alley and celebrate!
Thoughts on our ten years as a dojo!
As we approach our 10th year as a dojo. We would like to express our sincere gratitude to all those who have helped to make Aikido of Maine a special place. Our current membership, all those who have trained with us , the many visiting sensei who have come to share their aikido with us, to the children and parents of our youth programs. We are also very grateful to Saotome sensei who encouraged and supported us in opening our dojo, all have all helped to make AOM a great dojo.
We are very fortunate to have met so many great people and to have a great community form with Aikido and Aikido of Maine at the center. We have had members get married and have children, start their first day of school and graduate from high school and college and graduate programs , improve their working life, buy homes and it is all so great to witness and be part of.
We are Looking forward to the next ten years and all they will bring!
Thank you
Gary and Ania