April 28 - 30
Gravity is a given
Grace is freedom of movement
Through grace we transcend gravity
And move on earth as we would in space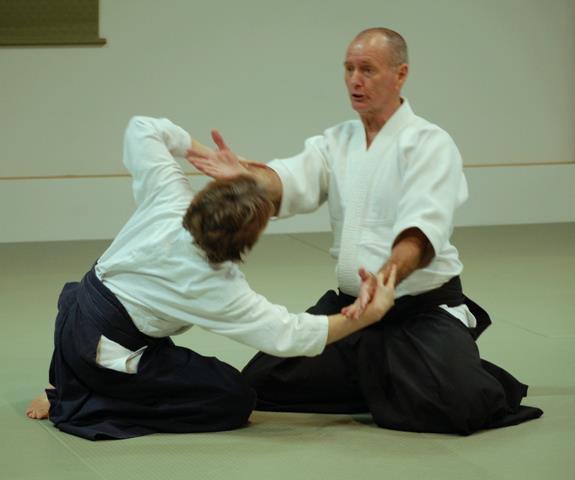 Creating form to manefest spontaneous technique.
Developing awareness in uke and nage.
Receiving as a way of exploring non escape.
Dan sensei has a unique approach to practice "Gravity and Grace" his seminars are always filled with great information and will help your practice in many ways. For those needing accommodations, the dojo is sleeping bag friendly and has shower facilities.                           Guests may also find space with local dojo members with some advanced planning.
If we can help you with your plans please let us know!
Gravity is a given," means that no matter how big or strong we are, or how we move, the effect of gravity on the body as a whole is the same.
"Grace is freedom of movement," means that when we organize our bodies, it's done from the inside out, rather than from the ground up. We stand and move with grace.
"Through grace we transcend gravity and move on earth as we would in space,"describes how we can move in a way that is less dependent on gravity and is more core-based.
When I began my college education I had planned to become an astrophysicist. Unfortunately, mathematics was not my strong suit. I continued, though, to take classes in astronomy and physics that were geared to the non-scientist. I was particularly interested in how astronauts move in a gravity-free environment. Things that we take for granted here on earth, like sitting on a toilet that is gravity-assisted, are not so easy in space.
Imagine, if you will, someone floating in space. Their body, if relaxed, would assume the most neutral position. This would vary for each person depending on how they use their body on earth. This is determined by the balance between the flexor and extensor muscles. So, how would this astronaut assume a seated position? He would have to stabilize his core, raise his thighs to a right angle, and also move his lower legs into a right angle. How would he sit in seiza in space? Again, on earth, this is not a problem because it is gravity assisted. In space, he would have to stabilize his core, raise his thighs and bring his heels up to touch his buttocks.
Seminar schedule
6:00pm – 8:00pm
10:00am-12-00pm
Brunch 12:00pm-2:30pm
3:00pm-5:00pm
10:00am-12:30 pm
Seminar cost:
Full seminar is $110 and you can register here. If we can help you join us in anyway please let us know.
Register
seminar waiver click to open
Please fill in the required fields, read the following carefully, choose I accept or I do not accept , and then click on submit.
In both cases, if he relaxed, he would return to the neutral position. He would be using different muscle groups to do this than he would on earth, where he could use gravity to assume the pose.
Now, imagine taking this astronaut who is in sitting seiza and placing him on earth without changing anything in the way he has organized his body. In other words, imagine that he wouldn't just relax into a gravity-based seiza. Even though he is now in the gravitational field of earth, his seiza posture is core-based. If you pushed on this astronaut while he was maintaining a core-based seiza, it would be very difficult to move him. If he were sitting on a slippery surface, his whole body would slide as a unit across the floor. We see this way of organizing the body in great dancers and athletes who all seem to float gracefully across the floor as if the earth were irrelevant.
For many years, I've practiced Aikido while wearing tabi socks. I do this for the purpose of minimizing my grip on the mat. Movements as simple as a tenkan become challenging when I'm on a slippery surface. Just as with our astronaut, I have to organize my body from the inside out, rather than through gravity and grip. This training has changed the way I move. No longer depending on grip, I'm free to move gracefully without losing my stability or core strength.
It also has changed the way I attack as uke. I can no longer hunker down when engaging nage and have to initiate my attacks without the benefit of grip or grounding. I've found that my attacks have become more efficient, more powerful, and I'm able to change my position quickly to adjust to nage's movement.
By focusing on our own body and its center, rather than the earth under our feet, we move with grace and power, and come to understand the words of O Sensei:
" I am the center of the universe"